by Elise Bowerman
Savoring the memories through photography is Alison Chapman Scola's passion and profession. Besides capturing special moments Alison participated in prenatal yoga with Elise Bowerman in Livonia with all three of her pregnancies.
Connect with Alison to learn more about her story or check out her photography to keep the memories alive of your growing family at alisonelizabethphotography.com or Instagram @alibeth_.
At the time of this interview, how far along are you postpartum?
I am three months postpartum with my third baby, and I have a 4 year old and a 2 year old.
How has Prenatal Yoga with Sweet Momma Yoga (Elise) supported your pregnancy?
When I first came to Sweet Momma Yoga, I was 21, pregnant, and just looking for something to keep me active. What I found with Elise was so much more. What I found was a beautiful and safe pace to connect to my baby and body, and be surrounded with other mommas going through it all with me.
Prenatal yoga with Sweet Momma Yoga has taught me so much about my body that I would not have otherwise known. Elise has so much knowledge to share about women's bodies, birthing experiences, postpartum life, and more.
The physical yoga practice teaches breathing techniques, mantras, and physical labor prep that I don't know what I would have done without.
I am so grateful for the beautiful community.
Being pregnant during a pandemic brought on a lot of extra anxiety, and sadness for all of the things I was missing. I realized that allowing myself to grieve the plans I had ended up being really important in embracing everything that was different about this pregnancy. In a world of uncertainty and changing rules, I knew that because of the tools I had been taught to birth confidently wherever and however I needed to.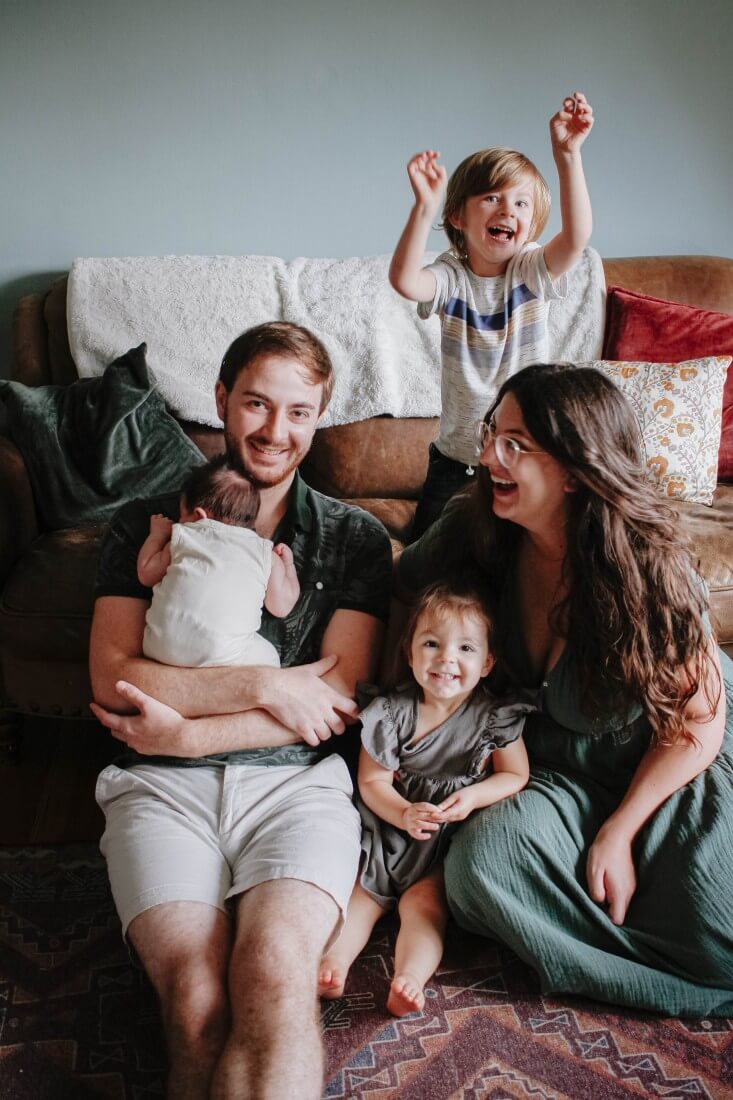 Did you practice yoga before attending Prenatal Yoga with Sweet Momma Yoga?
Previous to prenatal yoga, I had taken a yoga class here or there. I understood some of the basic verbiage, but not much past that. I then went on to practice with Sweet Momma Yoga for all three of my pregnancies.
I remember being worried about not completely knowing what I was doing when I started, but every worry was immediately put to rest. Everything is explained with ease, and they make you feel so comfortable so quickly.
Describe how the practice helped you in your birthing experience(s):
I think one of the bigger take-aways for me was getting comfortable with my body in all the forms that motherhood brings. Getting used to the way it moves and feels, so when it came time to labor and birth I felt more confident finding comfortable positions.
And then, of course, feeling like I was educated enough to make decisions for myself leading up to and during my births. A big difference between my first birth and third was feeling like I had the knowledge to advocate for the birthing experience that I wanted.
The first year postpartum is statistically the most challenging on many levels for birthers. Did your experiences of Prenatal and/or Postnatal Yoga offer preparation for, or a sense of ease / support in this phase of life for you?
The Facebook group is full of mommas who either are in it with you, or have gone through it. I was the first of all my friends and family to have babies, and it was super reassuring to have that reminder that I wasn't alone in this.
Also, the new appreciation for my body that I got from prenatal yoga really helped me give myself grace and learn to love my new body.
Hindsight and personal experience help us open to new ideas. What is some advice you'd like to gift another momma?
For pregnancy and birth: don't be afraid to stand up for the birth you want. You're in control, and you're allowed to ask questions and say no.
Trust yourself, mama.
Surround yourself with people who will support you.
Remember that all of the mothers who have come before you are right with you.
And, remember that your story is beautiful, no matter what that story ends up being.
For parenthood: Give yourself grace. Mom guilt is so real. Your kids need a happy mama, so take care of yourself and be kind to yourself.
And while it is true that it all goes by so fast, and one day we'll miss the chaos... it's really really ok not to love every single second.
Alison, thank you so much for sharing yourself with our community.