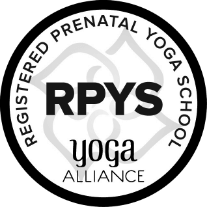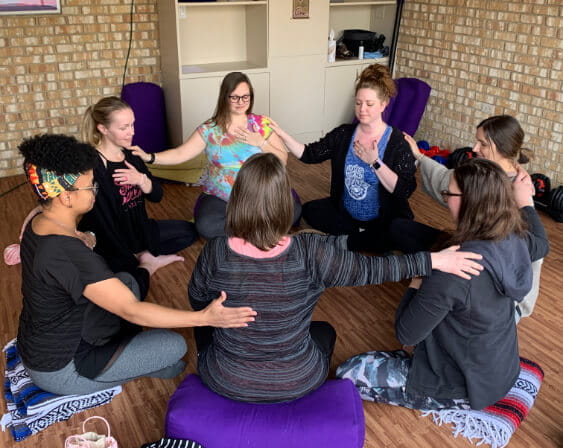 Course Details
Birth Humanity (formerly Sweet Momma Yoga) is the original Registered Prenatal Yoga School (RPYS) in Michigan and the Toledo, Ohio area.
Be the most visited birth-worker in your community.
Support parents as they consciously welcome new life to our planet with love and understanding.
In-person + digital content prenatal yoga teacher training
Elise's prenatal and postnatal yoga teacher training program is in alignment with Yoga Alliance's 85-hour RPYS standards; however you do not need to be registered with Yoga Alliance to participate. Check out Elise's top six frequently asked questions to learn more about becoming a pre/postnatal yoga teacher today.
Fertility, pregnancy, childbirth, and the first year postpartum will be studied on many levels. These life topics are delicate in nature. Please be mindful of your journey as sometimes past or unresolved feelings may come to light. As such, time to debrief and discuss is available. This fosters the ability to ultimately help others without attaching personal feelings on someone else's life path.
Pelvic Floor and Core Health instructed by Dr. Rachael E. Miller, Physical Therapist and Women's Health Coach
As program director and lead trainer, Elise Bowerman was fortunate to grow up in a household with a holistic mind-set and practiced yoga 10 years before her first child was born. She taught and practiced yoga throughout the entire pregnancies of both children experiencing first-hand what it's like to evolve at this time in life… personally and professionally. Due to her healthful living background she works closely with and advocates for doulas, midwives, chiropractors, holistic medicine, pelvic floor physical therapists, perinatal and antenatal psychologists. Elise is an active volunteer and donor for Birth Detroit.
Buy Now
Prenatal Yoga Teacher Training Course Curriculum
You will leave this in-person / virtual hybrid teacher training with the resources and how-to's of instructing both prenatal and postnatal yoga classes or workshops, business strategies to be a perinatal yoga leader in your community, and a deeper understanding of the grand transitional phase of life as women and birth-givers become parents.
Prerequisite: A minimum of one year, consistent personal yoga practice (i.e. weekly practice at minimum.) Trainee must have a basic understanding of yoga postures, breath work, and mindfulness practices.
A customized program manual/handbook is included and will be mailed to address provided.
Digital content access will begin immediately upon purchase.
Required reading to be purchased by participant prior to the first day of live classes: Yoga Mama Yoga Baby by Margo Shapiro Bachman and The Female Pelvis by Blandine Calais-Germain.